O
n August 5 at the
London
Summer Olympics
, an incident occurred when a bottle was thrown towards the Athletes during the Men's 100m final
Court document speculates the intended target was Jamaican sprinter
Usain
Bolt
who won the race 9.63 seconds.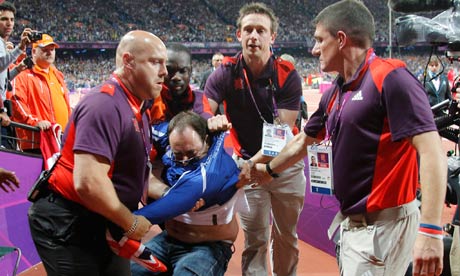 Ashley Gill-Webb
is detained shortly after an incident at the start of the men's 100m final at the London Olympics. Photograph: Chris Helgren
/REUTERS
Ashley Gill-Webb
, 34, pushed his way to the front of an exclusive seating area without a ticket and shouted things like:
"

Usain
you are bad, you are an
arsehole
,"
the court was told.
According the
Guardian
,
Gill-Webb
, from South Milford, near Leeds, was confronted by Dutch judoka Edith Bosch, and then restrained by Olympics volunteers and arrested by police, the court was told.
Gill-Webb
has however denied that he used threatening words or his behaviour was with intent to cause harassment, alarm or distress.
The case was tried at
Stratford Magistrates' Court
, and prosecutor Neil King said the court that
Gill-Webb threw a bottle in the hushed stadium just as the race was about to get under way: "He threw a green Heineken bottle in a lobbing motion that was captured on CCTV.
"This bottle landed extremely close to the athletes and it's probably luck rather than
Mr
Gill-Webb's judgment that it did not do anything far more serious."
Copyright 2013 Caribbean Emagazine All rights reserved. This material may not be published, broadcast, rewritten or redistributed without credit..